About Us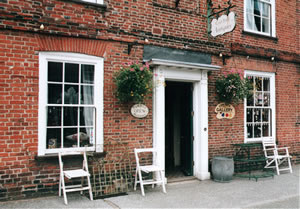 Gill and Ken have been in the antique and decorative living way of life for the last 20 plus years and have kept a finger on the pulse of the ever changing fads of fashion. With a shop in Bungay for 15 years Gill and Ken have helped to furnish many homes in East Anglia and many second home owners from London furnishing their primary homes.
Pine furniture from England once considered only good enough for the servants' quarters or kitchens was always made to be painted, or scrubbed. Painted pine from Middle Europe was held in higher regard and a larger range of pieces are available Gill and Ken stock a range of English and continental pine in a range of popular colours.
Chairs are one of Gills favourite items of furniture spanning the centuries and every walk of life. Consequently Cork Brick always has a few chairs in stock, Victorian armchairs are usually available newly upholsted in linins or a pretty fabric. Every home needs bits!! Gill and Ken love to buy the unusual quirky things as well as the useful like table lamps, chandeliers, candlesticks and things for the kitchen or dining room. Ken likes to buy architectural fragments, brackets, carvings, mouldings and the like.
Gardens are not forgotten, always favourite, garden tables, chairs, benches and urns are eagerly sought for sale at Cork Brick.
Gills gallery, next door to Ken's antique shop, shows a lively selection of professional artists that live around the Norfolk- Suffolk border, artists such as, Tessa Newcomb, Margaret Thomas, Lizzie Riches, John Morley, Jessica Perry, Dee Nickerson, and sculptor Rosemary Cook.